POC UNPLUGGED POP-UP
POWERED BY JIO SAAVN
MEET THE ARTISTS
PRODUCT OF CULTURE: UNPLUGGED POP-UP LA
Feel the day party vibes with a group of exceptional South Asian artists. Hear their stories, experience their sounds, feel their art and learn from their journeys.
Panel Talk Back at 2PM SHARP
FEATURING:
Performances throughout the afternoon from 3pm-6pm
Check out fresh art merch from South Asian creatives all afternoon!
In-store party and live DJ from 1PM-6PM.
---
POC x POC furthers diversity and cultural education across North America by providing young multicultural innovators and artists with a strong platform to tell their stories and share their art. Be a part of our movement and RISE for the culture.
CHEEKY BILLO BY ENA CHAHAL
Self-taught creator who finds inspiration from daily musings.
Fun fact: Everything I create is something I have envisioned on my own walls.
Early life: Taught to use my imagination and appreciation of colors to illustrate my wildest dreams. Got it from my mama.
Original inspirations: Watching my aunt and mother paint sceneries and cultivating creative combinations of colors. Quietly observing in the background like a lion cub preparing to pounce on unsuspecting prey I sat their shaking my fluffy little tail. Equipped with Crayons and paint I was ready to be unleashed!
My fascinations: Normalizing beards and turbans, cardiac pathologies, shrimp tacos, gluteus maximuses, hippopotomusses?
Hafsa Khan, aka Haf and Haf is an artist and immigration advocate from Columbus, Ohio. She primarily works with watercolor and graphic design. Haf has been an artist for almost 15 years and an immigration advocate for 5. Haf has been working to incorporate both of her identities to produce work that reflects her hyphenated self. Her art focuses on showcasing the beautiful, immigrant women that make up the south asian diaspora. Haf calls herself a Midwest Maharani- bringing her heritage and culture to the Midwest. Introducing the world to the everyday royalty present in the spirit of a south Asian woman. You can find out more about haf and her work at hafandhaf.com
Atif Ateeq is an artist and content creator from Brooklyn whose work aims to create impact and conversation within the brown and Muslim community. He passionately explores the duality within our identity and how that manifests in the form of new culture. His HALAL-HARAM hat project spread globally and explores the wide spectrum between HALAL and HARAM that we all live in. He is the cofounder of HYFN, a platform that documents the modern creative experience within the brown and Muslim community through visual storytelling. He hopes to spread pyaar and inspire all brown kids with big imaginations.
Kumari Suraj is a dancer and choreographer whose skill and love for dance have distinguished her as a leader in the international street dance community. Kumari has shared her unique dance blend to enthusiasts in 30 different countries across six continents, focusing on a mixture of Waacking, House, Hip-Hop, Dancehall, and Vogue.
मैं is a blend of east and west. We are a group of girls hustling it out in New Delhi, creating garments we wish to see, where our culture and practicality of everyday life meet and embrace each other, designed by Jayeta Rohilla.
Malinder Tooray, also known as , is a unique entertainer, composer, recording artist and musician. MTooray, has been dominating the Indian drumming scene for the past 17 years. Born into a Sikh family, and a native of Los Angeles, her artistry was heavily influenced by her lively Indian culture. Known as the first female dhol player in North America, MTooray, is a trailblazer in the music industry.
Malinder's career began at the age of 16 with the first brother and sister group of dhol players called, Dholnation. Self taught percussionist, MTooray, has traveled around the US performing with a many artists. Such as A.R. Rahman, Sukbhir, Mickey Singh, Jaz Dham.i DJs - DJ Rekha (Basement Bhangra), Jay Dhabi, Jasmine Solano, experienced choreographers like Kumari Suraj, BFUNK & Karmagraphy. High profile events: like World of Dance, LA Fashion Week, LA Indian Film Festival, Vancouver International Bhangra Celebration (VIBC), Michael Costello 's Runway(Designer) US OPENING PRE PARTY event by CitiBank. MTooray, recently caught the attention of Walt Disney. She was brought in to Capitol Records to record her dhol beats for the broadway rendition of The Jungle Book (2016).
Over the years, MTooray, has developed a greater understanding of various genres of music including World Music, EDM, Dancehall, Latin and Hip Hop. Most recently, MTooray, has been performing with Afro R&B Soul band, The.Wav. Her performances with The.Wav expanded her influence as an Indian drummer by allowing the incorporation of Indian beats to Afro Beat, Afro Trap, Afro Pop music. As a multi-talented artist, MTooray, is famous for fusing universal tribal beats to many genres of music building bridges that bring cultures together.
MTooray has been featured in Mickey Singh's new music video I am Urban Desi "The Musical". This was the first music video that opens doors to the South Asian LGTBQ community. Creating a platform for women empowerment. Her most recent recording was to DJ Snake's "Magenta Riddim" song, that went global.
MTooray, continues to develop her musical skills while focusing on her career as a unique entertainer, model and recording artist. Being a member of the LGBTQ community, MTooray, strives to be a role model for other queer female musicians. In particular to female descendants of the Indian diaspora who struggle with societal gender barriers and sexuality. In the coming year, MTooray is looking forward to taking her career to new heights. MTooray's goal is the be the first female dhol player to perform with major pop artists like Missy Elliot, Major Lazer, MIA, Nucleya, Pitbull, Ape Drums, Calvin Harris and more.
Fueled by inspiration and innovation, The Musical Doc brings to life a genre of music that incorporates diversity, soul, and higher consciousness. Her creativity in composition and performance has broken barriers and resonates with audiences around
the world. Being a musician and an actual medical doctor, The Musical Doc aspires to inspire and empower women, men, and children around the globe, through education, awareness and artistic expression.
Neha Kapil is a visual artist, fashion designer, and beauty vlogger from Minneapolis. She is a creator whose work uses a range of diverse mediums to celebrate South Asian culture. From paintings & illustrations to clothing & makeup, Neha's work centers around feminism, history, storytelling, and her Indian heritage.
Drawn to detail and tradition, Neha's art is a modern take on classical realism &
art nouveau styles. Her artwork is a representation of forgotten female heroes
and a celebration of women empowerment.
Her broad range of work has also led to her to develop her personal brand, AGNI, a
fashion label whose goal is to push creative boundaries and increase cultural
appreciation.
I'm Krisa Tailor - a first-generation Indian American, North Carolina native, lover of puns, pens, and chai, and the gal behind Pyarful. As a first-generation Indian American, I noticed that greeting cards that related to my South Asian roots simply didn't exist. A relatable Mother's Day card that captured a special bond with my mom, or a fun Diwali card for my friends, was nearly impossible to find. Unfortunately, in spite of the increasing popularity of craft stationery and paper goods, diversity and inclusion are seriously lacking from the gift-giving industry. That's why in 2017 I left my career in health tech to create Pyarful - a craft paper goods brand that celebrates the everyday joys of South Asian culture. Our hand-drawn greeting cards and prints are a playful ode to our multicultural upbringing, and small glimpses of experiences that so many of us South Asian-Americans share. Built on the values of celebration, connection, and craftsmanship, the brand illustrates South Asian culture in a fun and light-hearted way. I spent the last ten years of my life in healthcare - in both large corporations and startups, across various roles in product, marketing, and consulting. I started my own health tech company and I even wrote a book. Nothing has been as rewarding and as challenging as creating Pyarful.
Raaginder Singh Momi is a 25-year-old musician from the San Francisco Bay Area. Trained in the Western and Eastern classical traditions, Raaginder implements improvisation, rhythmic patterns and the sounds of Indian Classical music on a modified five-string violin. Raaginder has brought it upon his violin to experiment with different genres of music such as hip-hop, pop, and more. He studied at the California Institute of the Arts (CalArts) where he received his BFA in World Music Performance. Today, Raaginder performs around the world, teaches, and composes music for various projects across many genres.
What started as a passion project in 2004, has blossomed into the dopest marketplace for South-Asian inspired streetwear.
Rootsgear drops new collections several times a year, and most everything is produced in limited quantities with no re-stocks.
Transitioning from a Bollywood music producer into a mainstream pop artist, Sanjoy successfully fuses his South Asianinfluences with western ones to create his own worldly take on contemporary pop.
Born and raised Hindu in Bangladesh, at age 11, his family moved to San Jose, California to escape religiouspersecution. In his teen years, Sanjoy preoccupied his time with a laptop, making beats using Reason and Ableton Live.
Mash-ups and spinning came naturally and years later, while carving out a niche in his twenties, he was offered achance to work with Sunidhi Chauhan, a popular Playback singer in Bollywood.
The two collaborated on the single "Ab Laut Aa," and the song quickly became a viral sensation, introducing Sanjoy's electronic edge to the inner circle of the Indian film industry. Over the next years, his trademark style became a common thread of Bollywood cinema, as he teamed with composition duo Salim-Sulaiman and director Pritam to score a series of movies and projects.
Riding this wave of success, Sanjoy set his sights on American Top 40 and Dance radio. During this time, he readied his debut Dance Under the Influence; a full-length, multi-vocalist outing that showcased his production skills and featured the first hit to crack the Billboard charts, "Slip Away".
Directly on the heels of 2016, Sanjoy recorded singles, OBVI, Victim of Love (featuring K-Pop GOT7's Youngjae) and Shangri-La. Each continued his proclivity for cross-hatching genres by including Bollywood influences, but skillfully coalesced a dance-friendly, mainstream pop format as well.
Singer/songwriter/producer Sid Sriram represents a collision point of radically different worlds; a true hybridist. Sriram was born in Chennai, India. His family moved to the San Francisco/Bay Area suburbs when he was one. This duality of cultural roots was integral in forming Sriram's personal and artistic identity. He graduated from Berklee College of Music with a degree in Music Production and Engineering; here is where he started exploring and building his own sound. Sid Sriram's music creates a bold cross section where Pop/Soul, his Indian Classical roots and alternative/ambient music clash vibrantly.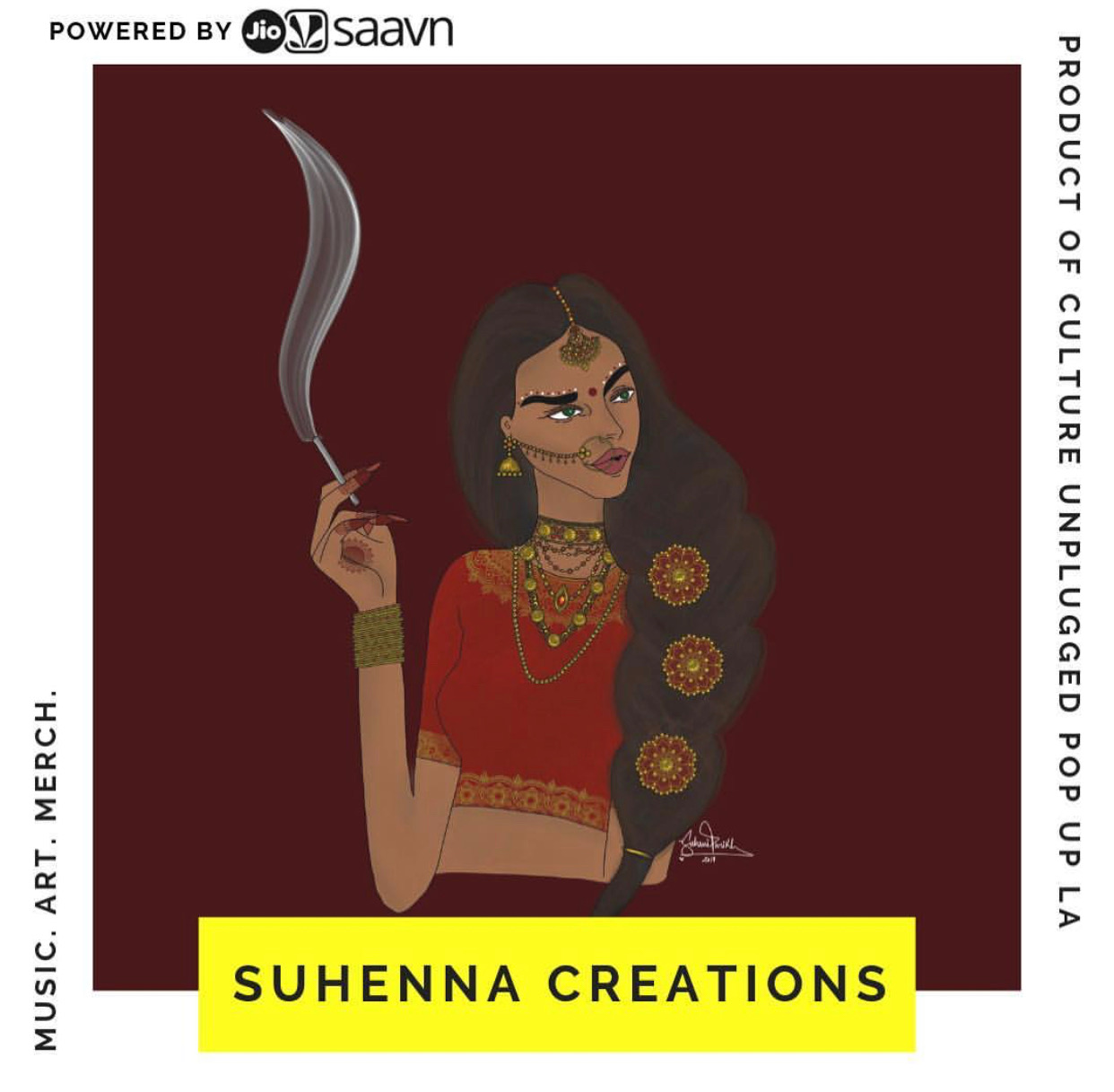 Suhenna brings a modern twist to traditional South Asian Art in every way we can. From our mendhi inspired art pieces to our pop art style drawings, Suhenna is always inspired and influenced by the culture.